See more articles
2022 Happy Cat Hurricane Sailboat Review
There's nothing timid or boring about this catamaran sailing kitty.
The new 16-foot Hurricane is the flagship of the Happy Cat line of inflatable sailing catamarans built by Grabner of Austria. She's the Cadillac of a three-model series and although the roots of the design go back to the 1960s, much changed when Grabner purchased the original manufacturer in 1986. Even more changed over the past three years as the builder focused on creating an evolved speedster worthy of one-design racing.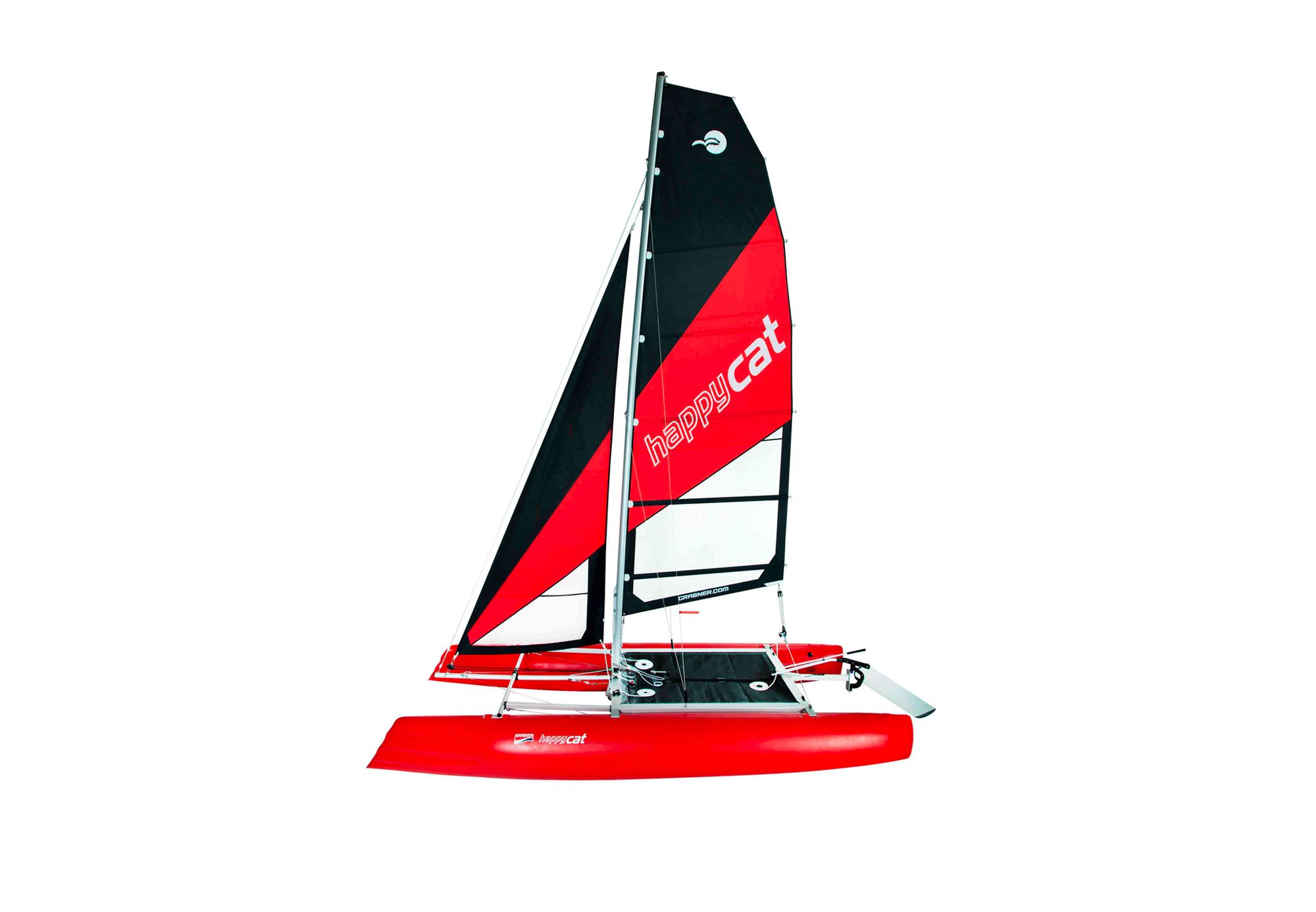 Above: A 2022 Happy Cat Hurricane Sailing Catamaran. Photo by Grabner.

When told that I was to test an inflatable catamaran, my expectations were low. I imagined a basic and timid resort cat with dumbed-down line handling and a painfully slow turn of speed. I even brought a change of clothing thinking it would be wet ride on an uncomfortable platform. At best, I figured I'd be bored. Boy, was I wrong.

Boat Design Basics

The Happy Cat Hurricane weighs 187 pounds in total. The hulls were designed to have more buoyancy and less resistance so it's possible to sail upwind at just about the speed of the true breeze. The waterline length is 16' 4" and the tubes have a 21-inch diameter so you're nice and high off the water and staying dry.

The convex, wave-piercing hulls are made of a special EPDM/natural, vulcanized rubber skin that's environmentally friendly with no toxic PVC plasticizers. The material isn't only rugged like that in car tires, it's also 100% recyclable. The fabric has a 20-year service life and is easy to repair so you refurbish rather than discard – what a novel concept in today's disposable world.

The frame and mast are made of anodized aluminum alloy that will stand up to saltwater if you choose to sail coastal. The frame and mast have square plug connections that don't torque, twist or get misshapen even in high wind and waves. The aluminum frame connects to the hulls and trampoline with sleeve inserts.

The foredeck is very usable. Stabilized by a crossbar, the hulls create a space in between where you can carry gear or extra crew that just wants to sunbathe and stay out of the way. Aft, you can attach a small outboard to the frame to make tracks on windless days. Finally, the centerboard mount, terminals, shackles and karabiners are made of high-quality stainless steel that also hold up in a harsh environment so just a rinse after use should be all the maintenance that's necessary and that means you'll go sailing more often.

Sails & Rigging

The rigging is comprehensive with lots of options for sail trim adjustment. There's a jib luff tensioner, jib leech tensioner, mainsail luff tensioner, clew board, battens, sheet leads, and even a traveler. That's impressive since there are 50-foot cruising boats that don't even have travelers.

The square-topped mainsail is fully battened and has no boom to hit you on the head. Together with the furling jib, there are 118 square feet of sail area. Double shrouds ensure the mast bend is controlled to optimize the sailing profile and with the 4:1 mainsheet purchase, it's easy to control the main by hand even in a blow so no heavy winches are needed. Windows in the sails help with visibility and you can even hike out using straps to put crew weight to work.

The 20-foot tilt-up mast can be raised by one person. Under sail, the mast rotates to take advantage of every puff but the ball joint has a limiter so you can lock it in in a heavier breeze if you so choose.

On the Water

The Happy Cat Hurricane can carry a crew of four but just two of us hopped on and took off in a light breeze. There were so many big boat adjustments on this small cat that I wasn't sure where to start. First, we let the centerboard and kick-up rudders down, then we unfurled the jib, brought in the mainsheet, and adjusted the traveler. Finally, we checked to see if the rotating mast was following the breeze. The process is intimidating for about 20 minutes and then you realize it mirrors larger race boats and it all makes sense.

The breeze on test day was initially light, but eventually, it came up to about 10 knots and we zipped around at 50 degrees apparent wind angle doing nine knots. The water was flat so we stayed dry but it was clear that these cats could stand up to a serious chop and with a larger/heavier crew, would have no trouble handling winds twice the speeds we saw that day.

Since there were a couple of us on various boats, we naturally started to race and then bump into one another. No fenders necessary. The great thing about these cats is that they're sophisticated enough to really teach your kids to sail. They're also stable but they'll fly a hull to add a bit of a thrill. Finally, they're soft and pliable, so it doesn't matter much what they run into – they'll most likely just bounce off.

Setup, Stowage and Options

Once you learn what to do, you can set the Hurricane up in 40 minutes. It can be done by one person so if you want to sail alone, you can, but it will help to be sizable, strong and able to lift about 60 pounds at a time. Packed down, the Happy Cat comes in three bags – two for the frame and mast (roughly 71" x 12" each) and a separate smaller satchel for the rubber hulls. You can also pack the sails separately to protect them. The whole thing fits in an SUV, on a roof rack or in the garage back home so no worries about offsite storage or dock space.

You can trick this boat out with a bevy of options including a bow deck seat cushion, special bags to keep gear and goodies dry for a whole day of sailing, light wind sails, heavy weather sails, a capsize protection float, a trapeze, a tarpaulin cover, a sun canopy, and a swim ladder. You can even mount a trolling motor up to 6 hp.

The Happy Cat Hurricane also comes in the upmarket carbon version with a high tech, 100% carbon rig that weighs 13 pounds less than the aluminum mast. That might not sound like much, but it's significant both in terms of sailing characteristics and when carrying the bags from the car to the beach for setup. The carbon rig also makes it easier to right the boat in case of a capsize and the stiff mast helps with mainsail shape.

Other Models

Also in the Happy Cat line is the Evolution (a foot shorter) and the Neo (another foot shorter and nearly 60 pounds lighter than the Hurricane). The Evolution, launched in 2015, was designed for two serious sailors looking for speed and to fly a hull in winds up to 20 knots. This model is 15' 3" LOA, has a beam of just over seven feet and is approximately 13 pounds lighter than the Hurricane.

The Neo is targeted at singlehanded racers. At just under 14 feet LOA and 130 pounds, this little boat can be set up in under a half hour and although most likely to be found with a crew of one, three adults could sail the Neo and not feel overly cramped.

So Much More Than Expected

I was surprised by the sophistication of the Happy Cat Hurricane and amazed by the simplicity of the design and quality of construction. We raced, we rafted up, we bumped into each other on purpose and generally, we behaved like kids despite our actual ages. This wasn't the resort cat experience I had expected at all. Inflatable or not, the Happy Cat Hurricane is clearly a performance cat looking for a one-design class to get started. But even when not racing, you'll be anything but bored.

Specifications:
LOA: 16' 4"
Beam: 7' 7"
Weight: 187 lbs.
Sail Area: 118 sq. ft.
Builder: Grabner, Austria
Price: $10,500 base$13,500 as tested

View small sailing catamarans for sale on boats.com today.