See more articles
Hurricane Crossfire 203: Video Boat Review
The 2015 Hurricane Crossfire 203 may be a small deckboat, but it's big on watersports features.
The 2015 Hurricane Crossfire 203 is an unusual boat: it comes as a package deal, without cutting corners or skimping on features. We spent some time on one in Lake Wawasee, IN, to put it through its paces. Here's what we found out.

Boat Test Notes

Concept

Build a watersports boat with the room of a deckboat, and fit it out with lots of features as standards, to make the boat-buying process easier.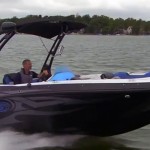 Construction

-Traditional fiberglass lay-up, utilizing one of Hurricane's proven deckboat hulls.

-Love the use of Trevira, a continuous-filament polyester that absorbs resin and bonds to coarse surfaces better than regular fiberglass, along the hull-to-deck joint.

-Not so in love with the rough fiberglass edges found in an aft compartment. If this were my boat, I'd cap them with trim or grind them smooth.

Performance

-Test boat had a 200 HP Yamaha F200 four-stroke outboard, which shot us up close to 50 MPH.

-Nail the throttle and the boat pops onto plane almost instantaneously.

-Even mid-range acceleration is excellent.

Handling

-Though the deckboat hull sports just 13 degrees of transom deadrise, handling in turns and curves is tight.

-Takes a chop just as you'd expect for a 20-footer with moderate deadrise; a small chop is no problem, but if you lay the throttle down and hit large wakes, going airborne is a possibility.

Specifications
Length
20'9"
Beam
8'6"
Draft (hull)
1'0"
Deadrise
13 degrees
Displacement
2,600 lbs
Fuel capacity
49 gal.

Unique Features

-The package deal is a good one; you won't need hours with a calculator to figure out the "real" price of the boat.

-Sweet tower, with an elevated tow point, board racks, and bullet speakers, is a rarity on boats this small. It befits a mid-20's watersports boat and you'll love it for wake boarding.

-Hullside graphics and matching interior colors don't cost anything extra.

-Fuel capacity is hefty, for a boat of this size.

To learn more about the Hurricane Crossfire 203, read our full review of the boat: Hurricane Crossfire 203: Worry Free Watersports. Or click over to the Hurricane web site, and see what the manufacturer has to say. If you're ready to buy, you can view plenty of listings for Hurricane deckboats on boats.com.