See more articles
Regal 2100 RX Surf Video: First Look
The 2015 Regal 2100 RX Surf is a wake surfing beast, thanks to its Volvo Penta Forward Drive.
The new for 2015 Regal 2100 RX Surf is one of the first models ever to run with the Volvo Penta Forward Drive propulsion system, and that makes it one of the most unique wake surfing boats around. The Forward Drive system moves those props a few feet farther forward under the boat, while Regal adds touches like an electrically-actuated folding tow tower with board racks, an integrated electronic helm, water ballast tanks, and convertible sunpads. Get a look at these goodies with our reviewer Brett Becker, who shot this short First Look Video at the Miami Boat Show.


What you couldn't see in this video is the awesome wake created by the 2100 RX Surf. Regal not only includes the ballast tank—which can add up to 1,000 pounds—they also have surf tabs that allow the driver to "shape" the wake for optimal curl. Plus, the digital helm (they call it RegalVue) has precise speed control which allows you to set the perfect wake-forming cruising speed, and stick with it. It's too bad Brett couldn't crank up the tunes, too. The Regal 2100 RX Surf comes with a Fusion stereo system, which docks your iPod or iPhone inside a waterproof chassis.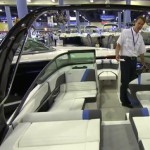 Why would Regal depart from it's normally successful bowrider/cruiser recipe, with a dedicated tow boat?  The answer lies in the popularity explosion wake surfing has experienced in the past couple of years. In fact, less than a decade ago no one had even heard of wake surfing. Yet in the past three years we've tested a slew of boats designed specifically for wake surfing.

You can get more information on the 2100 RX Surf by visiting Regal, or visit our listings pages to see some specific Regal 2100's for sale.